A new breakthrough phone tracking spy service has hit the market. The largest user base of the app, seem to be suspicious partners. The service combines an app and website which could monitor any boyfriend/girlfriend or partner discreetly.

Flexispy is a system designed to monitor mobile phones. These types of apps were primarily developed for parents or employees. However, it didnt take too long for people to use this service for other means though, including suspicious partners.

Flexispy has the capabilities to monitor conversations, location, messages, photos and even listen in and monitor live calls. Flexispy works on all modern smartphones and it requires at least five minutes for the app to be installed. This would be 5 minutes of unrestricted access. Once installed, the application runs silently without no trace.

Once Flexispy has been planted on the 'target phone' it will secretly relay all information to a computer login website (This would be set prior to the software being planted)

The spy app is totally undetectable and it will work as long as the subscription was bought for. Basic membership grants one months membership.

Their has been several privacy concerns about the use of this system. However, Flexispy state on their website that:
"If you're in a committed relationship, responsible for a child, or manage an employee - You have a right to know"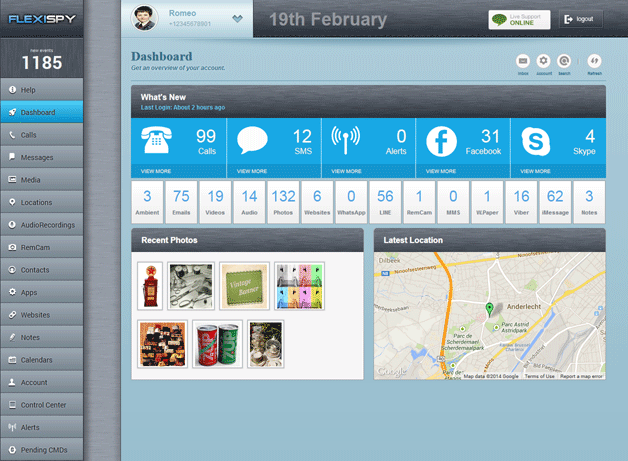 Flexispy has had over 1,000,000 downloads and has fast become the most preferred spy phone tracking monitoring service. In addition the their mobile phone spy and tablet spy systems, they also offer a PC version. FlexiSPY is the only mobile monitoring software that can spy on 14 instant messengers. These types of spy phone monitoring applications allow access to nearly every part of the phone, once they have been planted.
Some more advanced feartures include:
Bug Their Room - Listen in on their phone's surroundings & hear whats really going on behind closed doors.
Password Cracker - Read the passcodes & passwords contained in any Android, iPhone or iPad, so you can access their services directly.
Cell Phone Tracker - Pinpoint their exact location & find out.
Similar phone location & spy services are available such as 'Mspy'